Portraits
Best Camera Phone Photo Hack!
Thursday, October 11, 2018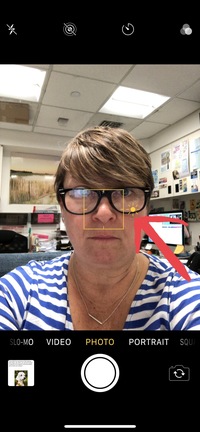 Ever try to take photos of your kids, pets or significant other outside but are often left feeling disappointed and frustrated that the faces are too dark or you didn't capture that gorgeous sky in the background? We often hear things like "How did you take that photo from you iPhone?" or "When I take a photo outside why can't I seem to get it to look good?"

Since the gorgeous fall colors are quickly approaching, we know that there will be a lot of you out with the family picking apples and hunting for that perfect pumpkin in the patch. And what wouldn't cap off a perfect day but a nice family photo on your iPhone.

Well we have an easy little iPhone camera hack for you that will make your family photos just sing! What many of you may not be aware of is that there is an exposure button that will easily allow you to adjust the brightness of your photo. This will help you if the light isn't ideal and your cute little faces are too dark or the sky is too bright. And here is how to find it.

With your camera on, press on or near any loved ones face and instantly you will see an orange box appear. That is your focal point. BUT right next to it will also be a small orange sun...THIS is your exposure control (See Picture) Now what you do is press and hold the orange sun under you finger but DON'T release it! While maintaining pressure on the sun, slide your finger or thumb up or down to either brighten or darken the amount of light on your family faces or to reveal the sky behind them. Once you have revealed the amount of light that you need, release and take the photo. BAM! You now have that family photo to remember your moment that matters.

Happy Photo Exposing from all of us here at Infinity Portrait Design!